Rev. Mark Matzke
Pastor Matzke is serving St. Mark as Senior Pastor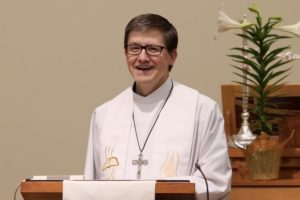 Pastor Mark Matzke is a graduate of Concordia University–Chicago (1994) and Concordia Theological Seminary, Fort Wayne, Indiana (1998). He served his vicarage at Trinity Evangelical Lutheran Church in Zanesville, Ohio. He was married just before entering the Holy Ministry, and he and his wife Susan have a son, Andy. Sue is a homemaker and Synodically trained educator who has served on the board for Diaconal Outreach Care and Services of southeast Ohio. She finds great joy in supporting her family and being involved with caring/mercy ministries.
He served as Assistant Pastor at Our Redeemer Lutheran Church in Solon, Ohio from 1998—2003, Pastor of St. Paul's Lutheran Church in Painesville, Ohio, from 2003—2010, and Trinity Evangelical Lutheran Church in Zanesville, Ohio from 2011—2015.
Pastor Matzke has assisted the ministry of the Church-at-Large by serving as devotion leader at the Ohio District Junior High Youth Gathering; LWML Zone Counselor for two terms; contributor to 'Cleveland Lutheran Radio;' LWML District Junior Counselor; Circuit Counselor/Visitor; Pastoral Delegate to the 2007 LCMS Convention; DELTO Mentor; devotion leader at the Ohio District Early Childhood Educators Conference; advisor to the Board of Our Shepherd Lutheran School in Painesville; presenter at LWML Ohio District Convention on "Servant Leadership;" presenter at 2007 & 2008 Ohio District Educators Conference on "Puppets in the Classroom;" Bible Study presenter at 2009 Ohio District LCMS Convention; presenter at 2011 Ohio District Educator's Conference on "Time to Rebuild;" was heard weekly on WHIZ Radio's "Moments with God" from 2011—2015; and currently chairs the Ohio District Board for Student Aid and Recruitment.
Pastor Matzke has produced two Christian podcasts, "Voices of Faith," which is done in an interview style, and "LifeWords," which is a collection of his sermons.
He and Andy sang with the Y-City Barbershop Chorus from 2012—2015.
Pastor Mark can be reached at: email: PastorMark@Stmarkchester.org phone: 740-297-9724
Rev. Chris Ryan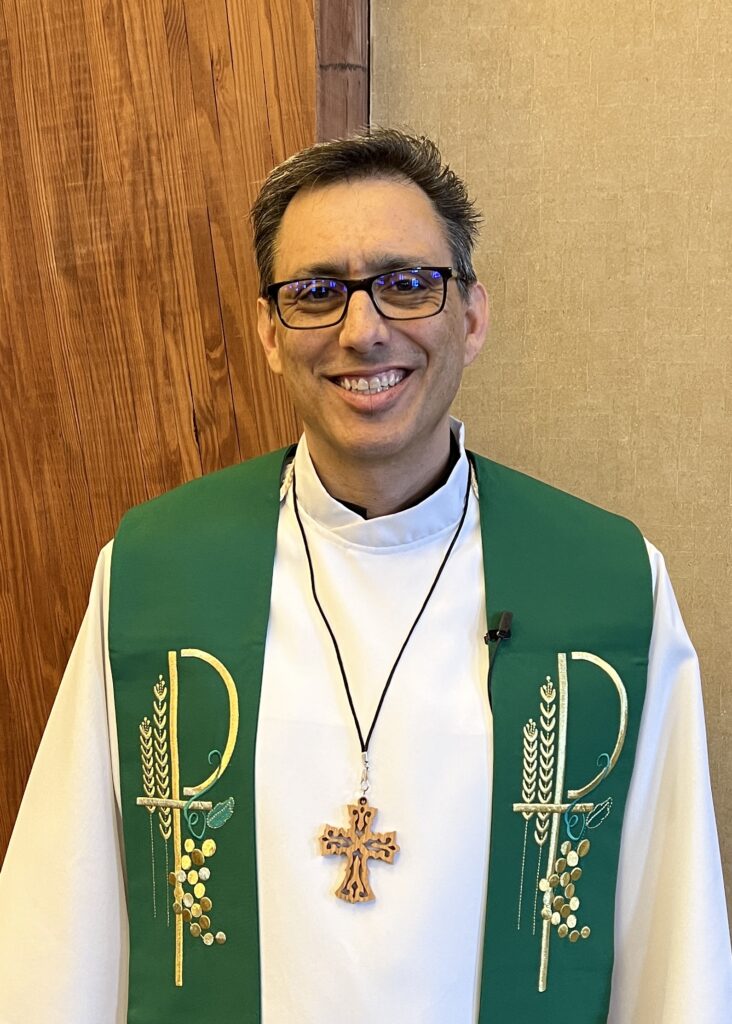 Pastor Chris has been active at St. John Lutheran Church in Rochester, MI as a 4/5 grade Sunday School teacher. Also, at Shepherd's Gate Lutheran Church in Shelby Township, MI as a 5/6 grade teacher as well as an adult Bible study instructor and a small group leader. Since coming to St. Mark, he has been very involved with the Youth Group and the Sunday School program.
He graduated from the Deacon/Pre-SMP program through the LCMS-Michigan District in May 2016. Pastor Chris began the SMP program through the Concordia Seminary in St. Louis, MO in Fall 2019. Pastor Chris Ryan was ordained as a pastor of the Lutheran Church-Missouri Synod and installed as Associate Pastor of St. Mark on January 16, 2022.
Chris has a bachelor's degree in Computer Science and works full-time at Progressive in their IT department.
He has been married to Kim since 2000, and together they have four children – Jessica, Mark, Hannah, and Nathan.
Pastor Chris can be reached at email: PastorChris@stmarkchester.org  phone: 440-264-3825
REV. KEN WELSH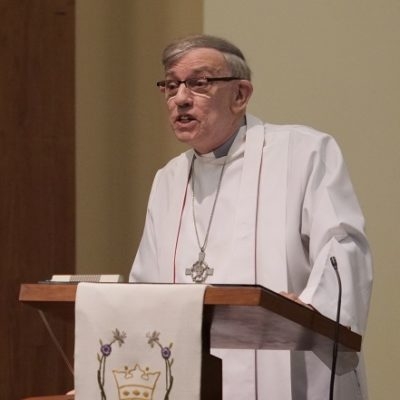 Pastor Welsh is the son of Eileen and Elwood Moyer, born September 22, 1941. He was baptized at Gethsemane Lutheran Church in Cleveland Heights and confirmed at Our Savior Lutheran in Mayfield Heights.
He has been active for a long time as former president, elder and youth director here at St. Mark Lutheran here in Chesterland. Ken went to West Geauga High School and then prepared for a teaching Career at Kent State University, achieving both a Bachelor of Science and Master of Education Degrees.
In 1964, he started a teaching career of thirty-three years in the West Geauga School District. During that time he also served as Sports Editor of the Geauga Times Leader, led the Christian Rebels, New Life, and LYF Youth Groups, and started and owned Tri-Way Day Camp in Russell Twp.
He entered Concordia Theological Seminary, St. Louis in 2005 and has served as a Vicar at St. Mark. Pastor Ken was ordained in 2009 at St. Mark
He met his wife, Jean Gay Welsh and they were married on Nov. 6, 1976. Their family includes children Carilee and Tom Moran, Randy and Ann Marie Cole and Kelly and Lena Cole.
Pastor and Gay have been blessed with four grandchildren
Pastor Ken recently retired as Associate Pastor at St. Mark. He remains an active member and continues to teach the "Life With God" class.
Pastor Ken can be reached at email: PastorKen@Stmarkchester.org phone: 440-729-2030