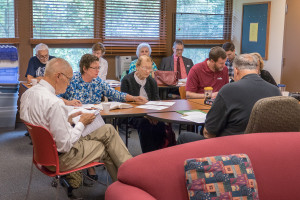 Sundays 9:45 am  LONGER LOOK AT THE LESSONS
moderated by various church members
meets in  the library
Delve deeper into each week's three Scripture readings with A Longer Look at the Lessons. This Bible study based on the lectionary in the Lutheran Service Book provides information about the readings and their contexts. A look at Greek or Hebrew words or phrases is sometimes included. Questions and answers mine the riches of the pericopes while encouraging class discussion and personal application

Sundays 9:45 AM  THE SERMON ON THE MOUNT
moderated by Mark Zimmerman
meets in the conference room next to the church offices
Jesus didn't just give us difficult marching orders in The Sermon on The Mount… He made them impossible… without Him.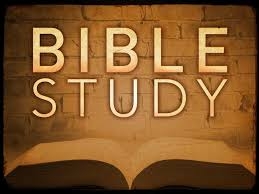 Saturday 9:00 AM 

"LIVE" BIBLE STUDY
moderated by Donna Robinson
Using the LIVE method, we will focus on one or two Scriptures each week.
Journals are available for $10.00. Feel free to attend regularly or just on occasion.
(L) Learn Write the verse
(I) Inspect- What do you see God doing in these verses? Who are the main characters? Who else is

included in the story? What are they doing? Why? What are their relationships with each other? With God?
(V) Value – In what area of your life can you use this message from God? What strengths in your life are
reinforced by this? Are there areas in your life you can use this message to grow?
( E ) Express – After listening to God speak to you in these verses, what is your prayer to Him?
Attendees are encouraged to study the following verses using the LIVE approach prior to the class &
bring your journals with you. We will then share our work in the group setting. Each person's
discoveries will be uniquely powered by the Holy Spirit. The excitement comes as we help each other
grow as believers! *Remember: pray that the Holy Spirit guides you during your study of God's Word.
He will, and the results will be amazing!
Any questions, please contact Donna Robinson.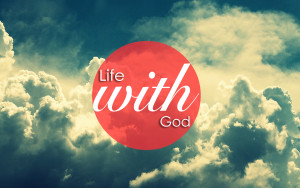 "Life with God" 
Classes started again on Sunday, September 15, at 9:45 a.m. in the Matthew Room at St. Mark. These classes are structured to help those interested in church membership, a review of the teachings of the Lutheran Church, and anyone seeking to know more about Christianity. The first class is a trial class and people may go home and decide whether to take the entire course of seven classes. Non-members who try the class receive a nice gift for coming (one per family). Please contact Pastor Ken at 440-321-7510 with any questions or referrals of anyone that might be interested. A makeup class of those not able to make the Sept. 15 class will be held on Sept 22, same time and place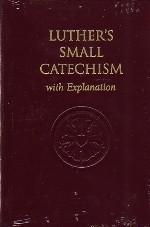 Tuesday 11:00 AM  "
6 THINGS EVERY CHRISTIAN SHOULD KNOW"
Pastor Matzke leads this study
We will explore the 6 chief parts of Luther's small catechism. Come experience engaging Biblical truth, lively discussion, and a caring community!
Session One- May 7, 2019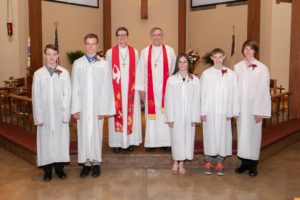 Wednesdays  6:00 pm  
 

Confirmation Studies
Young men and women ages 12 and 13 have the opportunity to learn about Christianity. This 2-year study leads to a presentation by the confirmands on a Sunday in May to the entire congregation as they are presented to the congregation as adult members.
Grades 7 and 8 confirmation study by Pastor Mark
Grades 5 and 6 pre-confirmation study led by Beth Christopherson
contact the church office (729-1668) to enroll your son or daughter in this class Wednesdays  Begins Sept. 4, 2019
 
Fourth Thursday of the month- St. Mark Book Club
Book Club News
*All members of St. Mark are welcome and encouraged to invite guests. You can attend as many or as few meetings as you wish.
*Contact Sue Matzke with any questions. Feel free to call/text (440)346-5588 or email RaggedyMom@gmail.com
*Meetings will be from 6:30-8: 30 pm and start with a potluck. You can join us for just the book discussion portion of the meeting that begins roughly at 7:15 pm. We generally meet in the small dining room off the kitchen.
*There will be signups for the potluck portion. You are always welcome to drop in without a dish. You are also not required to read the book. You can come just for the Christian fellowship.
*Discussion questions will be made available prior to the meeting. They will be posted on the church website and near the potluck signup.
November 21st
We will finally read Tara Westover's Educated: A Memoir. We will discuss this autobiography of a young girl, kept out of school by her radical father, who leaves her survivalist family and goes on to earn a Ph.D. from Cambridge University. This title is readily available to purchase from book stores and Amazon. Wait lists at libraries are significantly shorter than eighteen months ago. Sue will try to have copies available to borrow.
December 2019
Book Club takes a break to celebrate Christ's birth.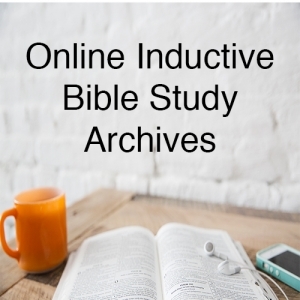 Bible Study Audio Archives
Selected Bible Studies and Audio from past studies 

Click Here