Weekly Announcements, Sept. 25, 2022.
Click here to see Pastor Mark and Pastor Chris YouTube of this week's announcements
LWML Celebration Sunday! Today, the Lutheran Women's Missionary League (LWML) invites you to join us in celebrating the joy of serving the Lord with gladness in this congregation. We invite you to learn more about the mission and ministry of the LWML by asking Beth Christopherson or going to the LWML website (www.lwml.org). Thank you for supporting the LWML through your mite offerings and prayers.
Men's Breakfast All men (members and non-members!) are welcome to join us for breakfast on Saturday, October 8th at 8:30am. The cost is only $10. We will meet at Guido's in Chesterland for some great food and conversation. Please RSVP to George Fretz.
Operation Christmas Child There are only three Sundays left to bring packed shoe boxes for this year's emphasis. Please do NOT tape your box shut and if you include a note, do NOT seal the envelope. If you still have room in your box(es), take any item(s) from the OCC table to fill any empty spaces. For many box recipients, this may be the first "gift" that they ever receive. Mark your calendar for our drop-in packing party on Monday, October 10 between 6:30 and 8:30pm in the Fellowship Hall.
Football, Food, and Friends! Mark your calendars – Sunday, October 23rd @ 12:30pm in the Fellowship Hall! On the big screen, Cleveland Browns vs. Baltimore Ravens! Join us for an afternoon of fun and exciting football! Go Browns!! Snacks and halftime refreshments will be provided. Beverages include pop, water, and coffee. Anything else – you bring it! A sign-up sheet will be on the Welcome Table beginning October 2nd. Wear your Brown gear and bring your comfy game watching chair!
Commitment Forms 2022As part of our efforts to be good stewards, each year we ask you, as the body of Christ, to complete a Commitment Form identifying ministries you want to participate in during the coming year. The commitment form can be found at bit.ly/StMarkStewardship, or you can get a hard copy from the Welcome Table. After praying for the Holy Spirit's help, please mark those areas of service that match your interests/talents. You will be contacted in the coming weeks for follow-up. The last page is a confidential anonymous Financial Commitment form. Only the Financial Secretary will receive this information. Please prayerfully consider your monetary gift/tithe as you generously return your first fruits to the Lord.
Scan the QR Code to take you to the Commitment Form.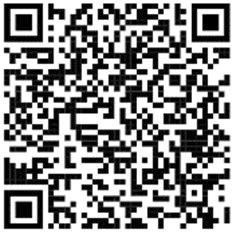 Calling All Crafters! We need you. Our "Gift of the Magi" boutique will be here in just a few weeks. We would love donations of all kinds – ornaments, wreaths, centerpieces, sleds, and old ice skates. The week of the boutique, we can use tons of live pine branches, candy, and baked goods. If you have any questions, please text Marilyn Meyerholt or Nancy Seabrook.
The Gently Used Shop The library is collecting gently used holiday items and unused "regiftables" that can be sold at the Boutique on Nov. 11-12. Donations will be accepted until Nov. 5th. Our Gently Used room is one of the most popular features of the Boutique. Be part of the fun with your donations and your participation in the event itself! Questions? Contact Lori Cudnik.
Church Secretary Position Opening Just to let you all know that Kim Ryan is stepping down. Therefore, we are looking for a replacement. If you, or someone you know, might be interested in this part-time position, contact Kim to spend some time in the office to see what it would entail. If you already know that you would be a great fit, contact David Toth.
October is Church Worker Appreciation Month, The LCMS rejoices and gives thanks for more than 14,000 faithful church workers who serve across the Synod. The most important way to thank God for your church workers is to receive the gifts that He provides through them: go to church to receive God's gifts of Word and Sacrament. Also take time to say "thank you" to them and to show your appreciation in special ways. Pray for the church workers at your congregation and all the workers in the LCMS, thanking God for their service.