Monday, JULY 22, 2019

 to 

Friday, JULY 26, 2019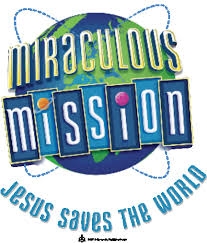 Lift off for an intergalactic adventure and learn about God's plan of salvation from creation to the cross! Just as the earth revolves around the sun, our faith revolves around God's Word. Keep Jesus and His Gospel at the center of your children's VBS experience with Miraculous Mission.
Registration is open for children ages 3 to 11 who will attend Vacation Bible School, JuLY 22-26, 9:00 a.m. to 11:30 a.m.

Come along with us as we sing fun songs, do crazy crafts, eat yummy snacks, play awesome games, and more. Can't wait to see you there!

To register on line ,

  

CLICK HERE 

 or pick up a form on the Vacation Bible School  table, in the church entrance way, or call 440 -729-1668, or email jtdeets@windstream.net.

There are still many ways you can help or be a part of Vacation Bible School this year. Call Tracy Deets at 440-821-9349 or jtdeets@windstream.net, for more information.